ABOUT THE BOOK

Discover 12 Keys for living your life's purpose, and strategies for surviving the changing times!


Change your life, change your planet to make it better and LIVE TO LIVE®. Unlock the secret path to inner guidance by practicing the 12 Golden Keys and discover your life's purpose, manifest your dreams, live your life with freedom, passion, and purpose, receive more contentment, wealth, and wellness than you have ever imagined, and take your place within the New World Age. The twelve Keys are for people of all spiritual paths and religious backgrounds.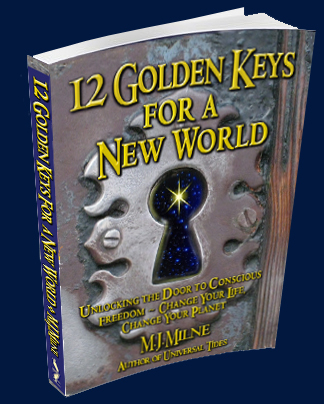 "12 GOLDEN KEYS FOR A NEW WORLD"
Unlocking the Door to Conscious Freedom
~ Change Your Life, Change Your Planet
Author: M. J. Milne
ISBN: 978-0-9739654-1-4
Price: $24.95 / CAD
Book details: Paperback, 6" x 9", 312 pages
Description: Prepare for a new world and discover your place within it. Overcome life's challenges by accessing your personal oracle—Soul—which guides you to live with freedom, passion, and purpose.

ORDER THE BOOK:

From our online Bookstore

From Amazon.com

By using the 12 Golden Keys and the art of conscious dream travel the author has discovered it is possible to:

Live with passion, purpose, and freedom
Let go of worry, fear, and stress
Understand the death of a loved one
Make excellent business and life decisions
Overcome challenges with health, money, and relationships
Change your life by using practical tools and key exercises
Recognize and follow divine guidance right NOW

CHANGE YOUR LIFE, CHANGE YOUR PLANET.
MAKE IT BETTER. LIVE TO LIVE®.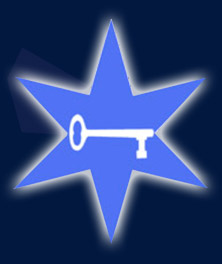 Begin the journey into healing your body, mind,
and spirit by discovering the 12 Keys to Soul power.


Unlock the Real Secret to Who You Are!
Discover the 12 Golden Keys and
Learn to Live to Live™®
This new book by M. J. Milne, 12 Golden Keys for a New World: Unlocking the Door to Conscious Freedom—Change Your Life, Change Your Planet, is a practical guide using twelve principles to handle change and do more than just survive in the modern age.

These 12 Golden Keys for conscious living are for all people, showing ways to live life with divine love, no matter your spiritual path or religious background.

Milne says, "Using the twelve Keys can allow us to view everything through the eyes of Soul. By using the inner guidance of Soul we can plan ahead, envisioning and manifesting our future, even creating wealth, wellness, and contentment. Tapping into your own amazing Soul power lights up the magic in your life!"

M. J. Milne was born in the rainforests of the west coast of Canada in Vancouver, B.C., where she became a professional bus driver. During a normal work shift in 1983, she met a spiritual master who waited for her at a bus stop three days in a row, but he never boarded her bus. On the last day, he gave her a message. After she heard this "calling" she began to take her life in a different direction. During the 1990s, M. J. underwent a powerful spiritual awakening. Today she is a writer, artist, world traveler, and is open to discussing her spiritual journey and principles with other spiritual seekers.

12 Golden Keys for a New World includes stories by over twenty-five writers from all walks of life who share their exuberance for life. For example, a Canadian nurse who worked at an orphanage in India, a well-known American travel writer who visited Iran, a missionary from Ecuador, and a German film producer who filmed a secret Mayan ceremony. They all agree: Life is about keeping the heart open and living life with a community spirit. See the world with a new perspective—the higher vantage point of Soul.
What are the benefits of reading the book?
Millions of people have experienced the benefits of tapping into Soul's inner guidance.12 Golden Keys for a New World, or "the good book" as some people call it, gives you step-by-step instructions and Key Tips to follow, such as explaining the art of conscious dream travel. Using these 12 Golden Keys, the author and her readers are discovering it is possible to:
Live the life you were born to live
Dare to take a chance & live your destiny
Experience togetherness as a divine union—"made in heaven"
Use self-healing techniques for spiritual healing
Learn how karma and past lives help you NOW
Recognize synchronicity and the hidden order of the universe
Change your life by using practical tools & key exercises.
Communicate with your personal oracle—Soul
Know what Soul is trying to tell you right NOW
Use divine guidance during survival situations
Tap into Soul to make excellent business and life decisions.
Break through barriers and limitations to reinvent your life
Reconnect to Source to overcome challenges
Let go of worry, fear, and stress in your life
Learn how to trust in Source/Spirit
Know that life is a cycle; it's never too late to start!


Unlock the secret of the 12 Golden Keys!



Be adventurous. Take a journey to unlock the secrets of Soul power. Through easily understood, step-by-step instructions and examples from her life, M. J. Milne shows you how to accept the new spiritual adventure she calls the New World Age, or the Age of Consciousness.
12 Golden Keys for a New World can assist you during these Changing Times of the fall of aggressive man and the rise of Spirit by offering a gateway through a major paradigm shift. We have come to a critical crossroad for the future of our planet and we will have to change the way we live. The New World Age has begun.

ORDER THE BOOK:
From our online bookstore
From Amazon.com-coming soon




Reviews & Endorsements
for M. J. Milne's 12 Golden Keys for a New World
"MJM's book is an important practical guide with a valuable message about how the power of soul can influence and transform your life. I consider this path of the 12 Keys to be a universal spiritual practice, journey into healing the mind, body, and spirit."
– JAMES TWYMAN, Peace Troubadour & New York Times bestselling author
"M. J. Milne's book is a primer on how to find our way through the daunting world of the twenty-first century. She uses her own experiences to show the twelve golden keys in action. Exercises, personal stories from all over the world—everything to make it as easy as possible to follow the path to conscious freedom."
– CLÉLIE RICH, poet, editor, and member of Room's editorial collective
"I love how this book is a practical yet also spiritual guide to living on this wonderful planet of ours! The thirty stories from real people are each truly amazing!"
– RAYMOND AARON, New York Times bestselling author of Chicken Soup for the Parent's Soul
~ "An innovative approach to higher consciousness. The keys give access to the subconscious in a way that accelerates your transformation."
– NANCY SHIPLEY RUBIN, psychic & counselor, RubinEnterprises.info
~ "The 12 keys give you the tools to 'unlock' blocks and move toward a more fulfilling and prosperous life."
- JODI SMITH, JLS Entertainment
~ "The 12 Keys provide ways to wade through the muck 'n mire of life and come out the other side a brand new YOU, living in conscious freedom, aware and wide awake!"
– RAE ARMOUR, realtor/recording artist, Next Move
~ "M.J. Milne's book inspires me to pay more attention to my spiritual growth—knowing I'll reap priceless benefits. Her anecdotes illuminate the book's very practical information about how to experience the power of Soul. I highly recommend 12 Golden Keys for a New World for any seeker of wisdom."
– JEANE MANNING, Author, Breakthrough Power
~ "What a powerful book! Your intuitive treasures awaken us to the spirit within and guide us to discover our own inner wisdom. Reading the 12GKs is like listening in on a conversation between our self and Soul in search of clarity. It's honest. It flows. And it inspires."
– JANET MATTHEWS, Co-author of Chicken Soup for the Canadian Soul
"For the first time in a long time I did turn the TV/radio off and I reconnected. I can't believe how wonderful this book is."
– JOANNE SARGINSON, teacher
~ "The 12 Keys provide exercises and tools necessary to live a joyful life. They teach us how to get in tune with our inner selves through the guidance of our spiritual guardians. Keep this book on hand to read time and time again."
– BABE GURR, recording artist, Chocolate Lily
~ "M.J. Milne's book is a powerful toolbox for tackling the challenges of a world in transition, and the perfect catalyst to reignite your spiritual quest. The Keys unlock the door to those secret worlds we long to enter. And I loved the supporting stories and easy to follow exercises!"
– MICHAEL HARRINGTON, author, Touched by the Dragon's Breath
~ "This book is just what our current world situation needs---a way to bring inner and outer practical shifts in this time of large scale world change. Read it now to have the solutions you will need to usher in a profound new and powerful way to live regardless of external conditions."
– SATYEN RAJA, author Living Ecstasy, Founder of WarriorSage.com
"I highly recommend the 12 Golden Keys to anyone who is wanting to know how they can create a better life in this world. To create wealth, wellness and happiness, this book is a step on the ladder called Law of Attraction and Conscious Living. It will give the current, and up and coming generations, God speed on their sustainable spiritual journey and prepare them for the many obstacles of life. A must read!"
– REV. SUSAN HUNT, Founder, Garden of Miracles Course Community (ACIM)

ORDER THE BOOK:
From our online bookstore
From Amazon.com-coming soon




SEE INSIDE THE BOOK
SAMPLE PAGE from 12 Golden Keys for a New World
PREFACE
Welcome. The inspiration for 12 Golden Keys for a New World (12GKs) first came through while rewriting my novel Universal Tides®: Barbed Wire Blues (Utides for short). The idea for Utides came to me in a dream when I was thirty-three, and after handwriting a 500-page first draft, I promptly placed it in an old trunk in the basement. Twenty-five years later, I stumbled upon the story and recognized its prophetic relevancy for today's world. Compelled to update Utides, the evolving 12 Keys appeared!
It's best to go at your own pace. Start by reading over each Golden Key, and do the exercise at the end of each chapter. Stay with a key until it becomes a part of your spiritual toolbox, ready to use at a moment's notice. Each key includes bulleted points, and sometimes I refer back to these points numerically, e.g., 1:2 means the First Key, point 2. This allows you to go back to review. Also, words in the Glossary are written in bold type the first time they appear.

Toward the end of each chapter are wonderful stories written by others, illustrating the key's meaning. See "Meet the Contributors" for their biographical information.

You are about to make your own personal history of spiritual experiences. I encourage you to follow your own inner guidance. It is important that you use your gifts of intuition, inspiration, and spiritual illumination. Seek and you shall find your own truth—and keep choosing love over fear.

Live to Live,
M. J. Milne


INTRODUCTION

There is but one history, and that is the soul's.
—W. B. Yeats
THERE ARE 12 GOLDEN KEYS that unlock gateways to secrets hidden inside of you. Fear is the gatekeeper that blocks your passage. As you unlock each door, you gradually enter a state of conscious freedom, a state of awareness that allows you the freedom to create and choose how to experience your life, dissolving fear. Conscious freedom leads you to the realization of who you truly are—Soul, a consciously aware being here for experience—and what that means in the grand scheme of things is life-altering. There is something more to life—being Soul. The rest is an illusion, an illusion of your own making, and you can change it, if you wish. As you do, you will begin to realize we are one planet, one spirit, and one family, breaking free of conditioned beliefs. Thus, your life journey is truly a spiritual quest. This book is designed to help you become who you are intended to be. It is meant as a practical guide for personal and planetary transformation through conscious freedom and the power of Soul.

The 12 Golden Keys came through while rewriting my sci-fi, new-age, survivalist novel Universal Tides: Barbed Wire Blues (Utides for short). Little did I know that the theme of Universal Tides—the fall of Man and the rise of Spirit—could actually happen, depending on our choices! While helping the characters, the 12 Golden Keys also helped many readers gain inner insights, and they began using the Keys to ask Soul all of life's most intriguing questions—and getting answers!
... she tried the little golden key in the lock, and to her great delight it fitted! Alice opened the door and found that it led into ...
— Lewis Carroll, Alice's Adventures in Wonderland
The character Alice in Lewis Carroll's Alice's Adventures in Wonderland, learns that very few things are impossible. Although a fiction story, I believe it's true, and there are three primary steps to discovering that truth.

First, the Keys unlock the secret gate of ageless wisdom that leads inward into the worlds of Soul. Life is a wonderful adventure, but there is something more. Your inner life is a buried treasure, along with secret life codes in your DNA.

Second, with the gate unlocked, allowing your passage through, the Keys explain practical ways to learn the ancient science of visionary sight. The secret knowledge they impart is how to access your authentic self (Soul) every moment, connecting you with God, Divine Source, or Spirit, or whatever you wish to call it. Throughout our world there is a growing phenomenon, a subtle revolution that is changing your human consciousness. You and millions of others are developing your spiritual sight, partly by opening your inner eye or Third Eye—the seat of visionary sight. With this inner knowledge you view everything through the eyes of Soul. By using the inner guidance of Soul you can plan ahead, knowing your purpose, envisioning and manifesting your life.

Third, the path is now before you and the 12 Keys show you how to travel on your journey. We are on a spiritual quest for survival. The word "spiritual" simply means you are in pursuit of your personal development. To become spiritual means to live in the present moment, fully conscious and content; and to be content you need spiritual freedom, meaning to be more aware of the presence of Soul in your life. Most everyone needs to find a way to contentment, living consciously each moment. That is our quest. We are on a quest to find our truth, passion for life, and contentment in turbulent times. For me, contentment is the ability to give ourselves permission to be who we are, being grateful for our mistakes because they are opportunities for growth.
. . . CONTINUED . . .
12 Golden Keys For a New World:

ORDER THE BOOK:
From our online bookstore
From Amazon.com-coming soon


JOIN OUR COMMUNITY!
Please join our FREE NEWSLETTER COMMUNITY by filling in the form with your e-mail address. We invite you to sign up to receive future exclusive excerpts, participate in reader outreach, and be kept up-to-date on the latest news from M. J. Milne.
The monthly E-Newsletter by M. J. Milne will be about the latest spiritually scientific news and ways to live a life of contentment. It will also feature such themes as relationships, health, work, business, finances, travel, earth changes, survivalist tips, beyond 2012, and others; plus, it will include a quote from the book; and also address your e-mail and blog questions.
We hope you join our online community!

You may opt-out at any time, and your information is private; we will never provide it to anyone for any reason. Help us understand how far we reach by including your City or Country.
ANY QUESTIONS?
Please click here to send an Email

Read the Disclaimer, Private Policy, & Trademark Info